Barnes Maloney Participates in "Legal Food Frenzy" Charitable Campaign – 2019
The Legal Food Frenzy helped support another area of need in the Louisville community – serving those who are food-insecure. Roughly one out of every six adults and one out of every five children in Kentucky lack enough food for a healthy, active lifestyle. Feeding Kentucky's food banks provide food and quality services to those suffering from hunger, but yet almost 40% of those food banks do not have enough food to meet client needs. That's where the annual Legal Food Frenzy comes into play. The Food Frenzy is a statewide competition among law firms and legal organizations to raise funds to support the Feeding Kentucky food banks across the Commonwealth. In 2018, Barnes Maloney finished in second place in the Medium-Sized Firms category of the Frenzy competition.
Barnes Maloney improved on its strong showing last year by winning the Medium-Sized Firm division for 2019! All told, SBM raised the equivalent of over 13,000 pounds of food to help fill the shelves of the Dare to Care Food Bank in the Louisville community. The firm was presented with the award on June 13, 2019, during the Young Lawyers Division luncheon at the annual Kentucky Bar Convention.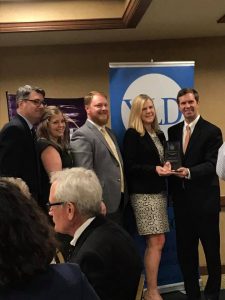 (Barnes Maloney attorneys in attendance (L to R): Stephen Keller, Chapin Scheumann, Justin Schaefer, and Terri Boroughs)